Somewhere Something Went
Terribly Wrong!!!
Where did it go??

Love is in the air. Everybody is smitten. So are we. Hence this weeks polling is for 'Kaam Dev'. Hold on!!! We wonder how many people from our Deptt. does actually care about love. But, with BTP presentations just round the corner the KAAM is what everybody thinks about.
"Yaar, BTP mein Kuchh KAAM nahin hooaa!!!"
Max KAAM karnaa Hain...."
Yes that is what the next polls are all about. It is about the workoholic who thinks nothing but of 'KAAM' and whose every deed if filled up with the "KAAM BHAVNAA."

Rules
1) Vote for a person of B.Tech '96 only.
2) Only B.Tech.'96 is allowed to vote.
3) You can vote by sending a mail to pole_ling@yahoo.com
Results for the Polls earlier Held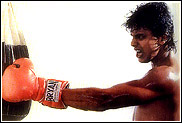 Terms and Condition
By reading the material on this page you have no right to get offended by syntax and semantics of any picture, sentence, word, alphabet, lines, dots...(or similar cauchy sequence).

The authors cannot be held responsible for any kind of (mis)interpretation from any kind of stuff on this page as you are the one who is interpreting and not the authors.
The Pole_Ling Inc.
"Hamari Koi Branch Nahin Hain"
Copywrong (Wrong to Copy) 2000