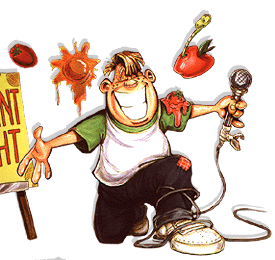 Hello folks,
So here we are back with the result of the second polls . We;; I must confess that this time the response was not overwhelming. I guess this is attributed to some people who are jealous of our ever growing popularity. To name few, the core team of 'M&D' Web Publishing have not taken part in both the polls. Similarly few souls which don't like to call themselves MAN didn't participate as well. Again this is a request to all these people to exercise their franchise.
Out of 60 souls of our batch, only 33 took part in voting.
Second runner up : Gaurav Rastogi
First runner up : Neeraj Dumir
Teraa Khoon P Jaaoongaa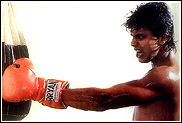 P. Suman Kumar
P. Suman Kumar wins FREE Subscription to the Jokes List Managed by Dube.
Well, I suppose everybody was expecting him to win. Well I would say that the title 'Angry Young man' does not go with Suman. Agreed, a slightest provocation gets Suman to blow smoke from his nose and ears. Again agreed that he is a man. But what about the third adjective "Young"?? Gives you some food for thought!! Huh??
"Hamari Koi Branch Nahin Hain"
Copywrong (Wrong to Copy) 2000